Juginder Luthra, MD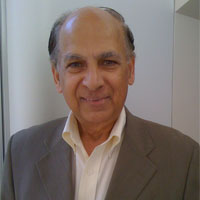 Graduated from Medical college, Amritsar, India 1966.
Residency in Ophthalmology, Chandigarh, India 1967 to 1970
Diploma Ophthalmology, London, England 1975
Migrated from India to USA in 1975
Board certified by American Academy of Ophthalmology 1977
Private practice Ophthalmology, Weirton , 1976 onwards, currently working with Lee Eye Center
Private practice Ophthalmology, East Liverpool, Ohio from 1982 to 2004
Past president of Medical Dental staff, Weirton Medical Center
Past president of Triveni International Club, Pittsburgh, PA
President of Weirton Heights Rotary Club, Weirton 2011/2012
Board member, Weirton Area Museum and Cultural Center, Weirton
Chairman of Festival of Nations committee 2009 onwards
Children: 3 daughters, 3 sons in law and 6 grand children. They all live in New York, our favorite vacation destination
Dr. Luthra sees patients at our Weirton location.
Related Pages